If you are in the small business world, you have heard of or experienced the weight a lawsuit can drop on an entrepreneur or small business owner. Rich Sierra has watched this happen hundreds of times, often hearing a version of I wish I'd hired legal help before this happened, in between. A culmination of 18 years of experience, Business SOS! holds the keys to eight common legal challenges small business owners are likely to face. From navigating lawsuits to 'preventive' care when signing contracts, to entering in partnerships, Rich walks you through dos and don'ts that will keep your company afloat. Free Event Admission with Advance Registration Here!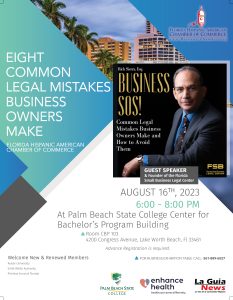 Being in business for over twenty years, you think you have it all figured out. This book is a great reminder that we need a great expert attorney in our corner and more importantly, we need to call on them more. One simple mistake could be detrimental to your success. I am so thankful for this book; it's a reminder to stay in your lane and to never assume you understand the legal jargon. The cost of navigating legal matters on your own will be far less than getting a business attorney involved from the beginning. Having the peace of mind that you are entering into an arrangement and the risk it mitigates could truly be priceless. Can you afford not to?
Allison Duine President, Intersection Online, Inc.
As entrepreneurs, we are so quick and excited to get a deal done. This book has given us great practical knowledge we can actually understand and apply to our business. This book is a must read for any business owner. When we first read this book, we had so many assumptions about how we should work with our attorney. Business SOS! made it easy for us to understand that having a lawyer who has your back can really save you from a bad decision when making a deal.
Caroline Castille and Mike Sierra
Founders, Clickable Impact